Travel Realities: June 2022 Edition
June 30, 2022
According to World Health Organization, as of 19 June, over 536 million cases were reported globally. However, international travel guidelines did not see much change as most of the world population are vaccinated at least with one dose of the Covid-19 vaccine.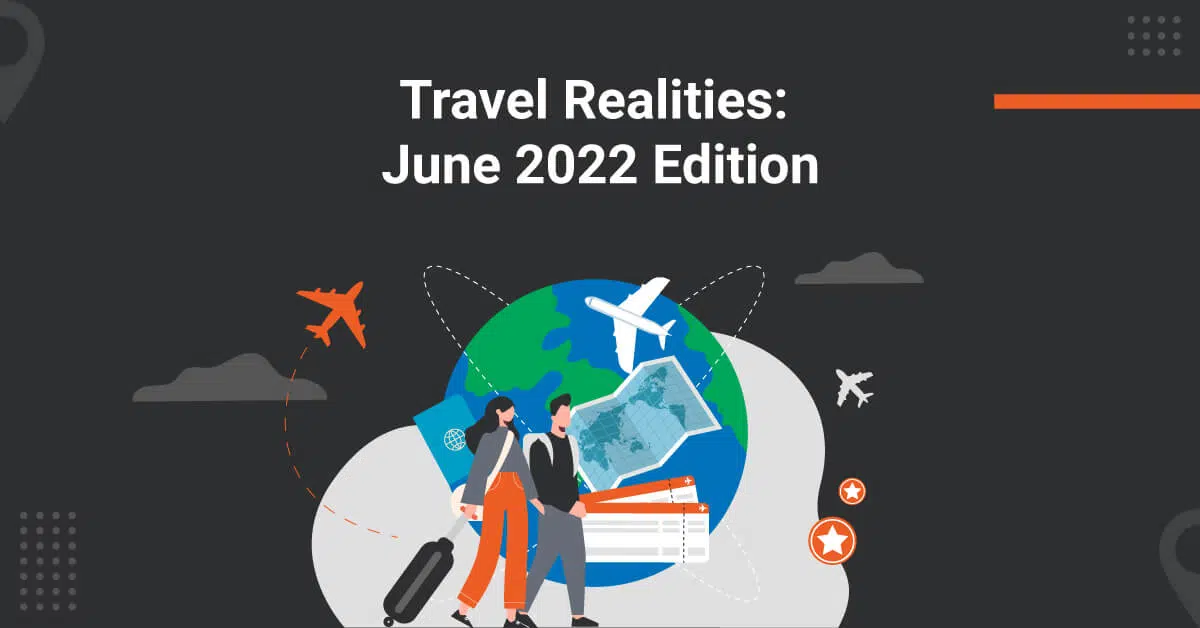 With the world opening doors to international travel, it is evident that business travel will not be the same as in pre-pandemic times. Countries are now resuming mask mandates in public places. For example, wearing face masks in closed spaces, workplaces, and public transport is mandatory in India.
Although travel guidelines are eased to a certain extent, the uncertainty still lingers around the travel curbs. Therefore, travelers need to exercise caution while traveling.
Here are some updates from different countries around the world.
Australia
All international travelers must be fully vaccinated before entering Australia. Since April 18, there has been no need to produce a negative pre-departure test.
Travelers are required to produce a valid international certificate for complete vaccination with an approved vaccine.
Non-vaccinated travelers entering South Australia require quarantining. Vaccinated travelers do not need to quarantine.
France
As of February 12, fully vaccinated travelers aged 12 and above can visit France provided they present proof of vaccination.
Non-vaccinated travelers from destinations designated "green" need to provide a negative Covid-19 test result taken no more than 24 hours before departure.
Non-vaccinated travelers from destinations designated "orange" can only enter if they have a valid reason.
The U.S.A
As of 12:01 AM on June 12, CDC will no longer require foreign travelers traveling to the US to submit negative Covid-19 viral test reports or recovery documentation.
Only fully vaccinated international travelers are allowed to enter the US with proof of vaccination.
Since April 18, travelers are no longer required to wear masks indoor and outdoor public settings.
India
Only fully vaccinated travelers are allowed to travel to India.
A negative Covid-19 RT-PCR report (72 hours prior to the journey) should be submitted.
The UK
There are currently no Covid-19-related restrictions on international travel to the UK. Arrivals no longer need to fill out a Passenger Locator Form before arriving in the UK.
Face masks are no longer mandatory anywhere. However, Transport for London recommends that travelers wear masks.
Germany
Since Jun 11, all Covid-19-related restrictions for entry into Germany have preliminarily been lifted.
Entry to Germany is permitted for all travel purposes (including tourism and visits).
It is no longer necessary to present proof of vaccination, proof of recovery, or a negative Covid-19 test result for entry to Germany.
UAE
Unvaccinated travelers must present a valid negative RT-PCR test conducted within 48 hours before arrival
Thailand
Only fully vaccinated passengers are allowed to visit Thailand.
Travelers who present a valid certificate for full vaccination against COVID-19 are exempt from pre-departure testing requirements.
To download the entire Travel Realities -June Edition, please click on the below button.
Author
:
Priyanka Kamath
Priyanka Kamath is a content writer and marketer at ITILITE. She quit her clinical research job to pursue something she loved-content creation! An avid traveler and travel influencer, she loves creating memories and narrating stories through videos and photos. She loves watching thriller movies and is an ardent cricket enthusiast.
Get the latest in your inbox
Subscribe to the Itilite blog and never miss a post!