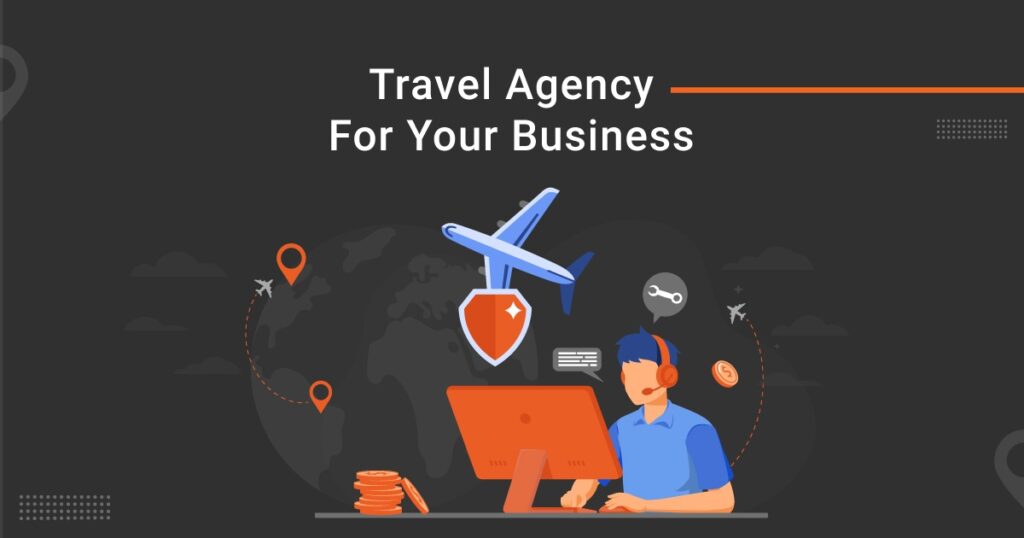 A corporate travel agency can help a company fully manage its travel program and provide a smooth booking experience to its employees. It can also save companies money by offering discounts on hotels, airlines, etc., via its global network. But how do you find a corporate travel agency that meets your business needs? We will be sharing some tips in this blog post. Read on!
What Is A Corporate Travel Agency?
A corporate travel agency or a travel management company is a service provider that manages travel for your company. They make sure the travel experience is seamless for your employees and provide them with 24/7 customer support. Usually, they provide you with a corporate travel agent that assist your employees in making necessary arrangements for their business trips within company policy. Some tasks that all corporate agencies perform:
Book travel for employees
Prepare a detailed itinerary
Assist with cancellations, re-bookings, etc.
Provide corporate negotiated rates
Help with documentation and foreign exchange
Key Factors In Selecting the Perfect Corporate Travel Agency
Choosing the right corporate travel agency is essential to ensuring that your business travel program runs efficiently and cost-effectively. To find the best corporate travel agency for your business, you may need to evaluate various factors such as their travel booking platform, travel policy compliance, customer service, and more. But have you considered how much you could save by choosing the right corporate travel agency? Try using our savings calculator to estimate your potential savings on corporate travel expenses by selecting the right corporate travel agency. Click here to access the calculator.
Whether you are dissatisfied with your current corporate travel agency or looking to hire one for the first time, there are a few key aspects to consider while making your decision. But when you start searching for a corporate travel agency, first, identify your business needs. Answering the following questions might help:
Why are you hiring a corporate travel agency rather than managing it internally?
What services would you want the agency to perform?
Do you need a dedicated corporate travel agent to assist you with all the steps in your travel management process?
Do you want to save money on business travel?
Do you want to enhance the employees' travel booking experience?
Do you need to gain actionable insights into travel and expense data?
Understanding what you actually want to accomplish from hiring a corporate travel agency would help you evaluate and select the best one.

To give your employees a seamless travel experience and your admins financial control, you need a mix of human service as well as technology in your corporate travel agency. Here are some key aspects to look for while choosing a corporate travel agency:
1. Personalized Customer Support
Your employees might encounter some emergencies while they are on a business trip. For instance, while on an international trip, they might need to know the shortest route to the workplace or the most readily available mode of public transport. In such cases, they need personalized support at their beck and call.
Therefore, you should check if the travel agency offers 24/7/365 support, which is vital when your employees travel for business, especially overseas. They should be available via multiple channels like chat and call, and in multiple languages, especially during emergencies.
Another thing that you should check is that they should provide you with a personal corporate travel agent that understands your employees' specific needs and helps them with the best alternative solutions in case of trip bookings, especially re-bookings and cancellations. They should be able to provide quick, accurate answers to the trip queries. You can check customer reviews online to know about their customer service or testimonials on their company site.
2. Smooth Booking Experience
Travel agencies rely a lot on emails and phone calls to interact with employees and make trip bookings. But today's employees don't want to spend time going back and forth on emails or calls. Hence, both travel managers and employees should be able to log in to the platform and book business trips themselves.
Moreover, the travel agency should deploy a corporate travel agent for all booking-related correspondence. The corporate travel agent should also act as a single point of contact and help travel managers find answers to all their queries instead of writing emails to the corporate travel agency.
In addition, the system should allow the process to be performed collaboratively. The travel managers should be able to make cancellations and re-bookings for the employees easily.
3. Advanced Technology For Travelers And Admins
Usually, corporate travel agencies don't have integrated travel and expense software. And in the absence of integrated T&E software, employee safety and policy compliance suffer. Ensure the one you choose has a good technology setup so that you get complete data visibility into your company travel spends, achieve near 100% policy compliance with in-built policy features, and fulfill the requirements of your duty of care plan.
Moreover, you can look for technologically advanced features like a virtual travel consultant in the agency's travel and expense software. A virtual travel consultant can help you identify potential saving opportunities all across your company's travel and expense process and suggest actionable steps to implement those insights in your process. By implementing those insights, you can easily save significant travel costs and minimize policy violations.
Also, find out if they have a mobile app with a user-friendly UI that can be used to send regular travel alerts and notifications and book travel on the go.
4. Extensive Hotel & Flight Inventory
Corporate travel agencies might partner with just a few vendors who do not offer low-budget airlines and hotels. You must definitely consider this factor while selecting a corporate travel agency.
Not having an extensive hotel and flight inventory can leave you stuck with a few options which may not be cost-efficient, thus increasing your travel costs.
Therefore, you should select a corporate travel agency that sources its travel inventory from a Global Distribution System (GDS). A GDS will be able to aggregate and arrange travel data from different vendors and create an extensive travel inventory.
Extensive inventory would include variants of transportation such as planes, trains, cars, etc., and accommodation such as hotels, studio apartments, etc. This will help you improve your cost savings.
5. Travel Agency Geo Reach
When vetting a corporate travel agency, pick the one whose expertise matches your geographic profile. For instance, if your business travel is mainly domestic, you would not need a travel agency with dozens of offices across the globe. On the other hand, if your employees travel overseas frequently, consider hiring a travel agency with a big name so that you get the expertise when needed.
Moreover, you should seek a corporate travel agent who is well-versed with international business etiquette to ease your employees' international travel experience. You can look for one specializing in travel for companies in your industry.
6. Reporting And Analytics
Many corporate travel agencies have a broken system that does not provide complete travel data insights.
Without comprehensive travel data insights, your travel managers will find it difficult to make smart decisions to enhance the efficiency of the travel management process and save costs. Hence, the corporate travel agency you select should provide your finance teams with a detailed travel report for all business trips.
For instance, they can provide MIS (Management Information System) reports that include your top spenders, percentage of last-minute travel bookings, out-of-policy bookings, frequently traveled destinations, and more. Such reports can provide you with insights that can help in saving money.
7. Ancillary services like passport/ visa/ travel insurance
While traveling internationally, the employees might need additional services to enhance their travel experience. Such services are called ancillary or concierge services. A few examples of concierge services include airport lounge facility, visa renewal, and business travel insurance. Although ancillary services are crucial, not all corporate travel agencies provide them without additional requests.
Therefore, while selecting a corporate travel agency, you must ask, apart from providing support in booking tickets, what extra service the agency provides. The agency should also provide ancillary services like helping employees with passport issuance, getting visas easily, and explaining travel insurance and its importance.
8. Security of data
Business travel involves storing and managing a lot of sensitive information like employee IDs and credit card details. If this data gets compromised, it can threaten the employees' and the company's security.
Therefore, you should look for a corporate travel agency that can keep your employees' data safe. It is important that you find out how the agency keeps all the data (employees' contact, email, etc.) secure and the measures they have put in place to ensure that data is not compromised. For instance, you can check if there are any global standards of security to be compliant with.
Once you have checked all these aspects, shortlist a few corporate travel agencies, see which one best fits your business needs and hire it!
9. Innovation and Easy Scalability
With the growth in your organization, the number of business travelers will also increase. So, you need a solution that can store all the additional employee data and handle the increasing number of travel requests with ease.
Therefore, you should look for a corporate travel agency that deploys a cloud-based software solution. Cloud-based solutions offer on-demand scalability, making it easier to add additional users and manage all their data without extra costs.
Hire a Corporate Travel Agency To Manage Your Travel Better
Hiring a corporate travel agency can help you manage your business travel process more efficiently. Moreover, such agencies can also provide travel-related expertise with the help of a corporate travel agent.
However, organizations that onboard a traditional travel agency usually end up managing their travel and expense processes with separate vendors leading to poor data visibility, analytics, and cost leakages. So, you must select an advanced travel management company that can understand and accommodate your organization's complete travel and expense needs on a single platform.
ITILITE is a travel management company that offers a wide range of travel inventory, 24/7/365 support, concierge services, and more. Moreover, ITILITE's integrated travel and expense management software offers lightning-quick booking, increases policy compliance by providing customized booking options, and reduces travel costs by offering the most economical options from a vast travel inventory.
To know more about ITILITE, get in touch with our product expert today.